Large DJ Package
My large DJ package is a popular choice for weddings, corporate events and functions in bigger rooms. This package is also fantastic for themed 80's, 90's and 00's nights and christmas parties.
With our large DJ package you will get the following:
Large Selection of elegant lighting on a large lighting rig
Fully controlled and programmed lighting
Mirror ball lights
Moving head lights
Dancefloor patterned lights
Haze Machine (venue permitting)
Sound Setup capable of filling larger rooms
Changable DJ booth (available in black, white & love hearts)
Large DJ Package with wedding/love hearts booth
Large DJ Package with black party booth
Small DJ Package
My smaller DJ package is ideal if you are looking for a party on a lower budget. I still offer the same professional service with a smaller set up. This is also a great package for events where space and time is at a premium.
With my small DJ package you will get the following:
Small Selection of lighting
Haze Machine (venue permitting)
Sound Setup suitable for smaller venues
Changable DJ booth (available in black, white & love hearts)
Small DJ Package with wedding/love hearts booth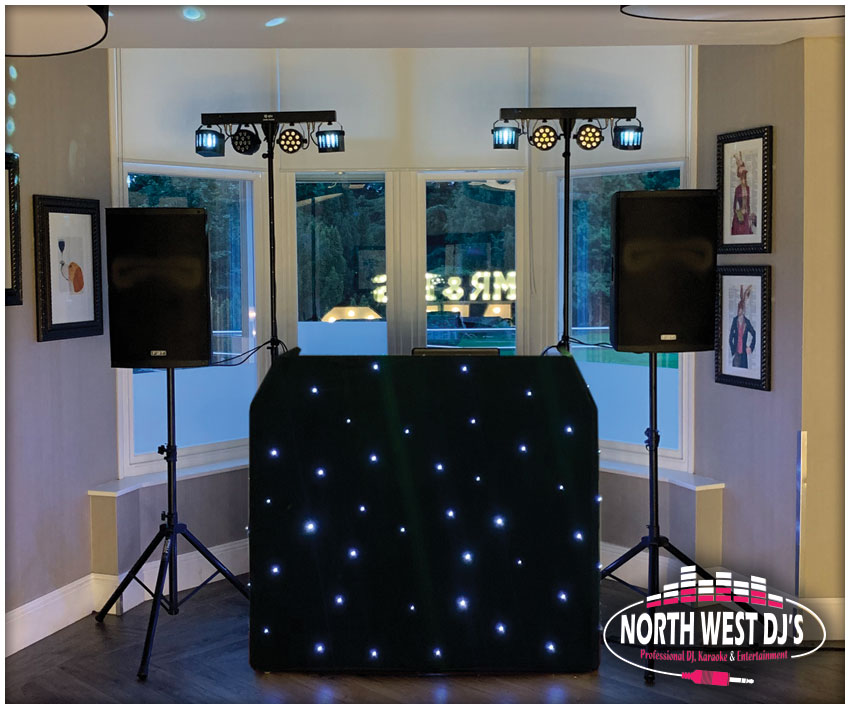 Small DJ Package with black party booth
To get a quote from me you can fill in the form and I will get back to you as soon as possible. Alternatively, my contact details are as follows: